Editor's note, February 2021: In our Featured Shop series, we shine a light on a standout shop from Etsy's talented seller community, offering readers a behind-the-scenes look at their process and story. And as we spend more time at home these days, getting cozy and catching up on our reading lists, we're taking a moment to revisit some of our favorites—like the story of this talented stained-glass artist from January 2019.
A stained-glass parrot with swirly pastel feathers perches on a geometric brass frame. A softly streaked humpback whale swims across the bottom of a circular mirror. Natural cotton tassels dangle from a rainbow-shaped looking glass. It only takes one glance to see that Lauren Earl's handcrafted home accessories, sold under the name Szklo Glass, are in a class of their own.
Explore the Szklo Glass collection
And that's precisely what's won her work a devoted following across the US and beyond—including on Broadway (read on to learn which headlining actress has become a repeat shopper). "The thing I hear most from my customers is that they're drawn to my work because it's something they haven't seen before," Lauren says. "I think that comes from me trying to make pieces that are a bit more modern and sophisticated than some stained glass work, and also a little bit more functional." Whether it's her practical and pretty jewelry organizers or her wholly whimsical wildlife designs that catch your eye, this is one dazzling talent to watch.
Next up: Get a peek inside Lauren's newly converted mobile studio, and shop the Szklo Glass collection.
How did you get started working with stained glass? 
My first job out of high school was in a stained-glass shop in San Diego, where I grew up; I worked there for about a year and loved it—working with my hands and with art. When I moved away for college in Utah, I got a job in another stained-glass shop, and that's where I got the bulk of my education with stained-glass making. (It's also where I met my now-husband—his uncle owned the business and he worked there while he was in school, too.) I loved the environment, and being able to stand and physically work with something all day long. I've done a computer job before too, and it's okay—but I definitely like being on my feet more.
When did you decide to start making the kind of work that you're creating now?
When I was working at that second stained glass shop, I realized I wanted to make some little things of my own—I just didn't know what. The first things I tried making were these super plain rectangle-shaped glass pieces that I turned into necklaces. I remember my sister really loved them, but I've never worn that much jewelry myself, so when they didn't quite take off I just dropped it.
It wasn't until years later, after my husband and I had moved to Las Vegas and had a couple kids, that I started really thinking about what I wanted to do. I kind of got in a rut; I love being a mom, but I felt like, as a creative person, I still needed to have some kind of creative outlet to thrive. That's when I sat down to figure out what I could make in just an hour or two a day, to have a moment for myself and do something artistic.
I ran through a lot of different ideas before something clicked: I saw a geometric wall hanging somewhere, and I realized I could use the stained glass skills I already had to make something other than a window or a jewelry piece. The first glass wall hangings I made were really simple: a hanging triangle piece and a circular piece with a couple colors in it.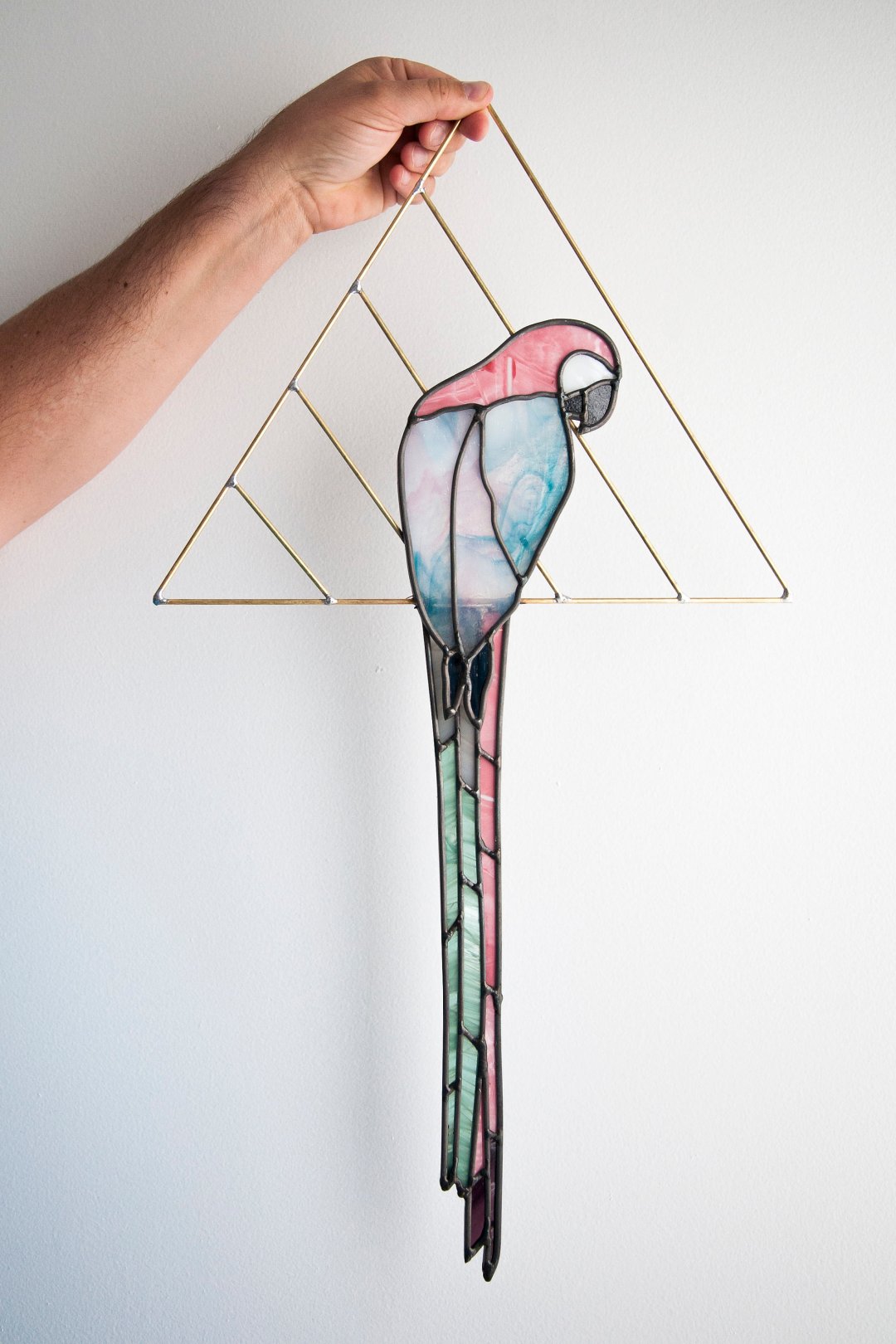 You have such an interesting approach to your medium: combining mirrors and fiber work, and making pieces that are both functional and decorative. Will you tell us a bit about your design development process, and how it's evolved over time?
I started out working with really simple geometric shapes because I liked that it felt modern and clean. Then slowly I added in other materials, like chain and brass bars. I used to have a job creating window displays for Anthropologie (and I still sometimes design windows for a bookstore in downtown Salt Lake), and I think my initial impulse to bring in other types of materials came from that installation background. At first I was quite nervous, and wondered if people in the stained glass world wouldn't take it seriously. But I believe there's definitely room to push the envelope with stained glass, and I think a lot of newer, younger people in the field are doing that too.
What about design inspiration? Where do you go for that? 
My design inspiration comes from all over the place. I've done an Art Deco collection with pieces inspired by vintage jewelry, and for my most recent collections I've pulled inspiration from a lot of architecture and interior design, particularly in the curved arches and circles you see coming into play. I love that with stained glass, I can take inspiration from all types of design work.
Because I'm a mom and I don't get out as much as I should, the easiest sources for me to find inspiration are online. Instagram is huge; I follow Design Milk and Architectural Digest to see the up-and-coming design and architecture trends. And then I also love Pinterest but I'm never searching for stained glass as inspiration. I'll be searching something that has nothing to do with glass—like chairs, for example—and see a color that I love, or a line that draws me in.
What's your work space like? 
I'm currently in the process of moving my work space from the basement of our house in Salt Lake into a vintage Spartan Aircraft trailer that we're converting into a mobile studio. I'll have a work table that I can walk all the way around rather than only working from one side like I do now, and I'll have an area to organize my glass, a station to do my grinding, another space for shipping, and then hopefully a little computer desk, too. I'm really excited about it.
What are some of the most popular items in your shop?
My jewelry organizers and my mirrors have been consistently popular pieces, especially my Geo mirrors—they're an asymmetrical shape with brass bars on top. My parrot design also gets a lot of attention, and I'm hoping in 2019 to do a mini bird collection, and make a wall full of glass birds. I have a raven ready to go, and some really cool black glass that has a green iridescent sheen to it that I want to do something with. And my daughter's been requesting a flamingo, so I have to do a flamingo too.
Have you had any memorable custom requests?
One of the coolest requests I got so far was from Betsy Wolfe, who was in the musical Waitress. She saw my moon stained glass wall hanging on Instagram and ordered a couple as thank-you gifts for people at the end of her Waitress run—including one for Sara Bareilles, who was taking her spot onstage. We worked together to pick out the glass colors, and then Betsy reached out to me again later to make another custom piece for her sister. I thought that was so fun.
What have been some of the most exciting moments or proudest achievements of your creative career thus far?
One of the big ones was when Design*Sponge did a little piece on 30 stained glass artists you should follow on Instagram, and I was so excited to find one of my pieces in the post. Another cool one was when Dayna Isom Johnson did a segment for Real Simple and used one of my mirrors in it. Recently, The New York Times had me send them a piece to photograph for their magazine—I'm hoping that one works out. It's a very weird thing to see that you're noticed by people, because I'm not a big company, I'm just a small artist-maker in my basement (or my trailer). I'm still not used to it, but it's very cool.
What do you love most about running Szklo Glass?
Being able to create whatever comes into my head. I've always loved coming up with my own ideas and having full design control rather than trying to follow instructions. And if I think of something that I feel inspired by, I have to do it, because if I don't I can't drop it; I have to at least try it in order to get it out of my system. That's what gets me excited.
Follow Szklo Glass on Instagram and Facebook.
Photographs by Haley Nord.
Shop Szklo Glass
More about us Crazy4tshirt – Tami US shop
Personalized Shirts & Gifts! We're your number one source for personalized gifts and the original creator of "pecking order" sibling t-shirts, big brother and big sister t-shirts, and so much more! If you're looking for the most adorable matching sibling shirts for your flock
Main product categories in TAMI US SHOP: Clothing, Face Mask, Shirts, T-Shirts,Sticker, Sweatshirts…
And You've come to the right place!
You can read more our blog categories:  Occasions | Weddings | Home and Living | Creativity | Fashion news | Style